field trips
Fifth Grade Student Field Trips
The Summer Teacher Institute is part of an integrated process that prepares you and your class to achieve the best educational impact from a class field trip to the
Belle Isle Aquarium (BIA)
.
These Grade 5 field trips are much more than a regular field trip; they are, in fact, a classroom extension in a very unique setting. Your students will dive into the fifth grade Science Standard
"Matter and Energy in Organisms and Ecosystems"
both in our gallery and our ecosystems lab.
The science practice of using models to understand relationships arises naturally when students design food webs utilizing our exhibit animals and explore the phenomena of energy transfer through matter in food webs. Students will get their hands wet and dirty, literally, as they meet scavengers, decomposers and invasive species.
In the ecosystems lab, students will work in teams to build a variety of food webs. This activity concludes with students presenting to their classmates how energy moves through their food webs and designing possible solutions to the detrimental effects of invasive species and human influences on their food web. The geography, history, and citizen involvement in the spread of invasive species will help your students progress with Social Science Standards.
As we wrap up, we remind them all the ways in which scientific tools, processes and ways of thinking were incorporated into our day.
We conclude by personally introducing them to current STEM scientists here at the aquarium, plus others on the Island and around Detroit.
In order for students to get the best educational impact from our Grade 5 DPSCD Belle Isle Aquarium field trips, we invite teachers to attend our 4-day Summer Teacher Institute, in 2020 before bringing their class to the Belle Isle Aquarium.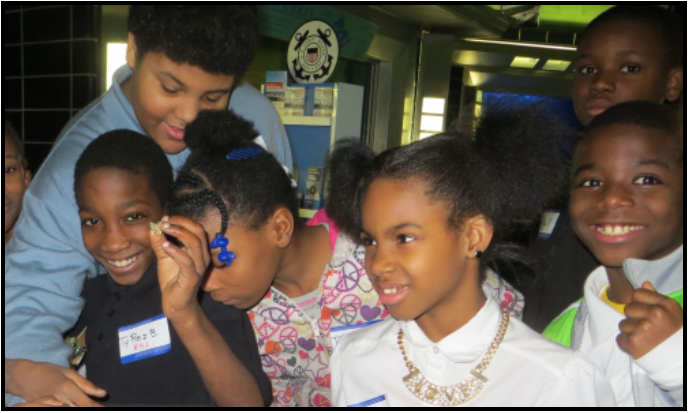 To ask questions about the Summer Teacher Institute, contact:
Summer Institute Coordinator:

Joan Chadde, Michigan Technological Institute,
jchadde@mtu.edu
Belle Isle Aquarium Field Trip Program Coordinator:
Amy Emmert, Belle Isle Conservancy
emmerta@belleisleconservancy.org
Teachers' resource materials will be made available as part of this project in collaboration with the Belle Isle Aquarium (Detroit), Wayne State University (Dr. Jeffrey Ram, jeffram@wayne.edu; Dr. Sandra Yarema, sandra.yarema@wayne.edu), and Michigan Technological University. To learn more about the Belle Isle Aquarium and its involvement in education, see:
http://www.biaquariumstem.org
One of the outcomes of these Workshops will be to create teachers' lesson plans that will be posted on the Belle Isle Aquarium STEM website.
This project is funded by the National Science Foundation

​This material is partly based upon work supported by the National Science Foundation under Grant No. 1614187.
​Any opinions, findings, and conclusions or recommendations expressed in this material are those of the authors and do not necessarily reflect the views of the National Science Foundation.
---